Dreaming of a Kitchen and Bathroom Remodeling?
Do it and enjoy!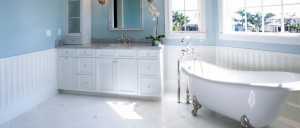 Here's what the folks at HGTV have to say about bathroom remodeling:
"Too many people say, 'I want to move, so I have to remodel my bathroom,' Then they immediately sell their house!"  And that's a shame, according to HGTV.
Instead of selling, HGTV recommends: "Do it and enjoy it, and if you do it well and it's quality workmanship, you'll get your money out of it…"
At IT Landes, we wholeheartedly agree: "Do it and enjoy it."
You should enjoy the space while you're living there and include the fixtures and features that will make the bathroom comfortable for your lifestyle.
IT Landes has the skill and expertise to help you take a time-worn, obsolete bathroom and turn it into the most welcoming space in your home.
Our design staff works with you and/or your general contractor to achieve your dreams. We offer you a wide range of alternative floorplans and accompanying colors and textures to complement or contrast.
If you can imagine it, we can design and install it, or work with your contractor to make your dreams come true. Contact your IT Landes Bathroom Remodeling Consultant today at (215) 256-4221.
Plumbing fixtures and trim offered include:
Click here to learn more about our Residential Financing Offers.
Contact IT Landes to request a Residential or Commercial estimate, service, or fuel delivery appointment.