How do Carrier Ductless Mini-Splits Work?
The easy answer is "pretty great!"
Single or multi-zone systems. heating and cooling or just cooling. Whatever your needs, wherever your space, however you use it, Carrier® Ductless systems offer customizable solutions that are efficient and quiet.
Here's How Ductless Works
Ductless splits, also called "Mini-Splits" pump cooled or heated refrigerant directly to the wall or ceiling-mounted air-handling unit.
Here's how the system works in a single room application:
The indoor unit uses refrigerant to cool or heat air and quietly pushes the chilled air it where you need it in your living space.
Refrigerant and electrical lines connect the outdoor unit to the indoor unit through a 3″ opening in the exterior wall.
The outdoor unit's state-of-the-art heat pump cools or warms refrigerant and sends it back inside to the air handler, which continuously monitors the room for changes in temperature and sends conditioned air to the areas of the room that need it.
Or if you're using ductless as a whole home solution, up to 9 indoor units can be installed using the same outdoor unit.
The Components of a Ductless System
Indoor Unit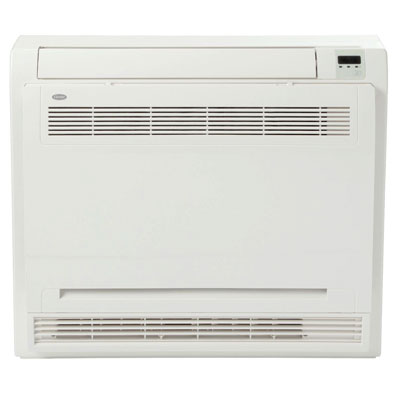 Also referred to as an evaporator or air handler, this can either be a high wall, low wall (above) or ceiling unit. There's even a ducted option.
Line Sets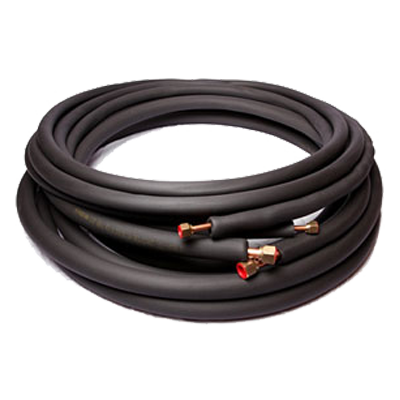 The line sets consist of a power cable, condensate drain, refrigerant and suction tubing all connected to the indoor unit through a 3″ hole.
Outdoor Unit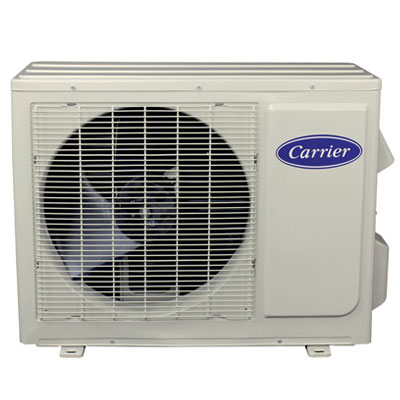 Each outdoor unit, or condenser, can interface with up to 9 indoor air handler units and is designed to tolerate the weather and elements.
Zoning Options That Help Save You Money
Single Zone
Ductless air conditioners and heat pumps can be installed so that one indoor unit corresponds to one outdoor compressor. The compressor carries refrigerant and power to the interior unit via a small pipe, running through a small opening, installed with very little impact to your home.

---
Multi-Zone
One outdoor compressor can power up to nine indoor units, each separately controlled by a wireless remote, offering you flexible options for configuring your comfort solutions. You can even choose to add units to your compressor in the future after you've installed just two indoor units (depending on the maximum number of connectable units), allowing for more streamlined expansion or renovation of your home as time and budget allow.

INVERTER Technology
Ductless systems from Carrier use INVERTER technology, operating at variable speeds, which results in more-even temperature control, greater energy savings and powerful dehumidification. The compressor speed adjusts automatically, much like a car on cruise control, so the system isn't constantly running at maximum capacity and only draws energy when it's needed.
When it comes to monitoring or adjusting the temperature in your home, you have plenty of options.
Each indoor unit comes with its own remote control. Also, Carrier® offers a variety of thermostat options; even the option to control your heating and air conditioning from virtually anywhere with a smartphone.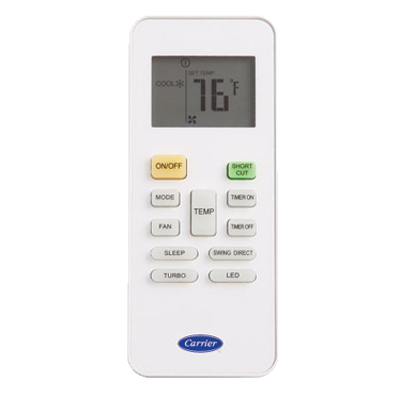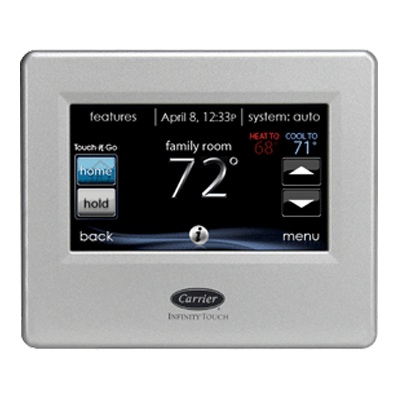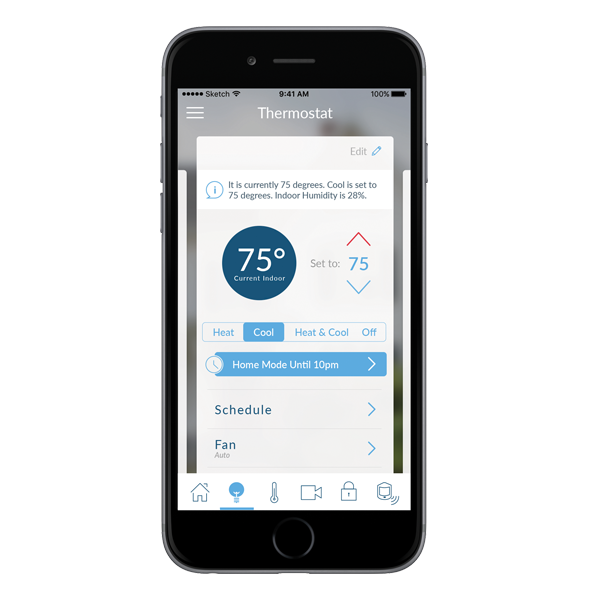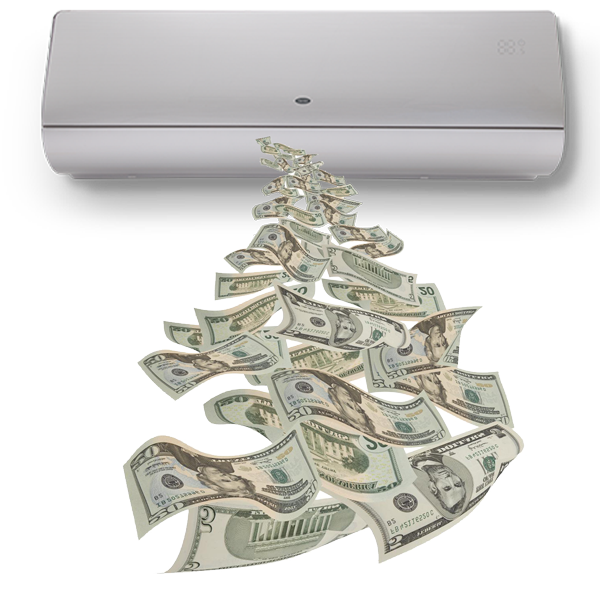 From the easy, hassle-free installation to eliminating your need for fossil fuels, there are multiple ways that ductless can help you save on home energy costs. Ductless also gives back, in energy-efficient savings!
Ductless is a great fit for your home, office or even your home office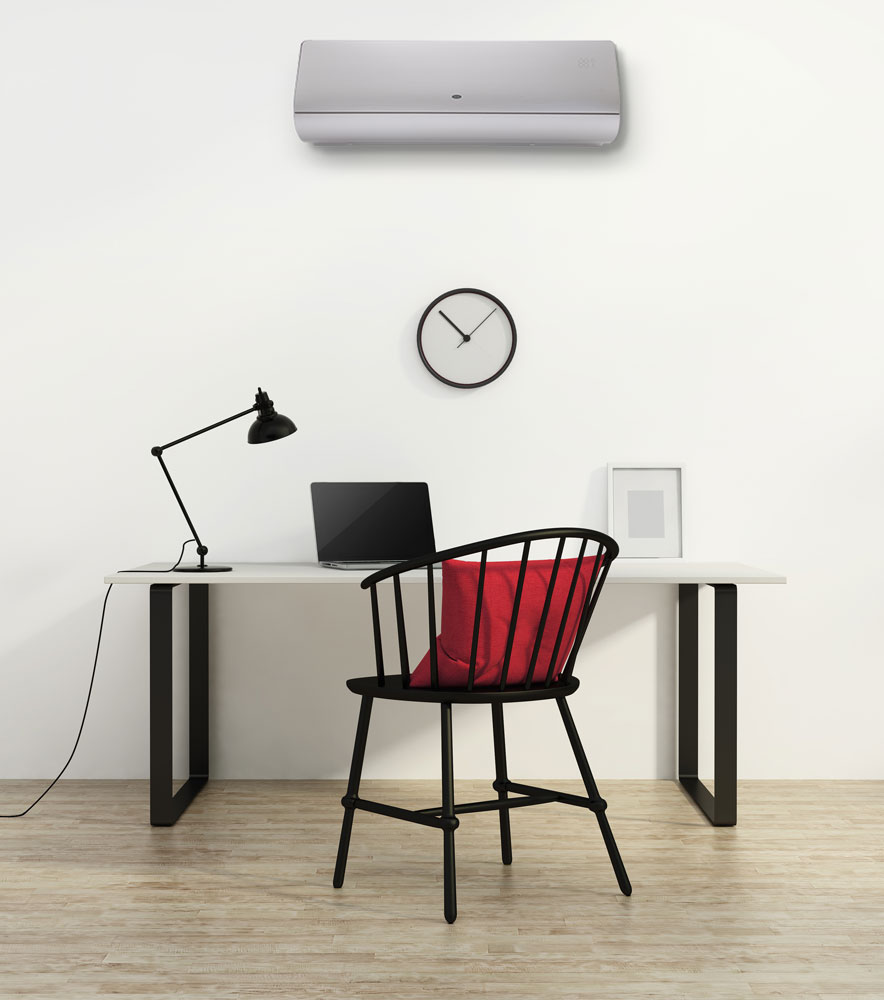 ---