Dear Valued Client,
As we prepare to leave 2016 in the past and welcome 2017, we would like to reflect on where we have been and share some thoughts for the future.
A recap of 2016:
IT Landes had a productive year for our residential plumbing, heating and cooling services. Our team members completed over 7,500 demand service calls and performed over 50 bathroom renovations – helping homeowners turn their dreams into a reality. In 2016, we helped to ensure year 'round comfort to 2,000+ with our Gold Shield Preventive Maintenance Program!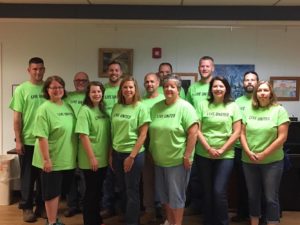 A primary aspect of the IT Landes culture is being a part our community. For decades, we remained a family business but in 2014 we became an Employee Stock Ownership Company.  As employee-owners we remained a family-oriented culture that is dedicated to providing their community with high quality, professional, and dependable service. Today, we are proud to employ over 178 residents of Montgomery and Bucks Counties. In 2016, IT Landes added 59 employees to that total count and in the last quarter, 25 new employee-owners! We've brought new jobs to these counties – and thank you for helping us do so.
Not only are we proud to employ residents of our own community but we also strive to give back and show our appreciation for our community! Team members participated in United Way's Day of Caring in September. We helped to paint restrooms, hallways, and project rooms for Encore Experiences in Harleysville-Senior Center. In August, many of our team members volunteered with Keystone Opportunity Center to help repair and clean a home in Souderton for an awaiting family. Recently, Indian Valley Chamber of Commerce held a Career Exploration Day at Dock Academy. Mike Grassi and Brian Kolb visited the school the explore the field of plumbing with students in the 5th grade. We hope they inspired some boys and girls to pursue a career in the HVAC industry, maybe even with IT Landes one day!
Looking back, we can say it's been a pretty great year and we're excited to build on our foundation – as a business in our community, as employee-owners, and as neighbors. In 2017, we plan to:
Increase our community service participation
Provide year 'round comfort to even more people like you!
Provide stable jobs with great benefits
But most importantly, continue to provide professional, dependable and affordable residential HVAC services to the residents throughout our community in Montgomery and Bucks Counties.
Have a safe and happy New Year. We look forward to seeing you in 2017!
Sincerely,
The IT Landes family