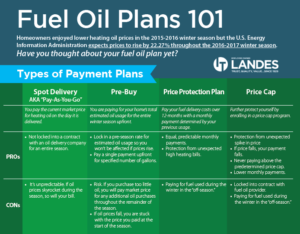 Another heating season is upon us, and it's time to start thinking about a fuel oil plan. Homeowners enjoyed lower heating oil spending during the 2016-2017 winter season due to warmer than usual temperatures, but this winter is expected to be 13% colder. According to the U.S. Energy Information Administration, heating oil prices are predicted to rise by 17% in the 2017-2018 season. In order to make the most well-informed and cost-effective decision when choosing a heating oil provider, it's important to know about the types of payment plans available and services offered.
Spot Delivery
Spot delivery, or "pay as you go," means that you pay the current market price for heating oil on the day it is delivered. This fuel oil plan is ideal for homeowners who do not want to be locked into a contract with an oil delivery company for an entire season. The downside of this plan is the unpredictability of the fuel oil market. If oil prices increase during the season, so will your payment.
Pre-Buy
Pre-buy allows you to pay for your home's total estimated oil usage for the entire winter season upfront. When you pre-buy your heating oil, you lock in a preseason rate, guaranteeing that your price will not go up no matter what happens in the market. Pre-buying heating oil is a great option if you expect fuel oil prices to rise; however, there are risks. If you purchase too little oil, you will pay the market price for any additional oil throughout the remainder of the season. If oil prices fall, you are stuck with the price you paid at the start of the season. Note: IT Landes has already sold out of pre-buy gallons for the 2017-2018 winter season, but this is still a viable option to consider in the future.
Price Protection Plan
Price protection plans provide protection from large heating bills in the middle of winter by allowing you to spread your heating oil costs over a 12-month period. In addition to enrolling in a monthly payment plan, most heating oil service providers also offer a price cap.
Price Cap
If you sign up for a monthly payment plan, you can further protect yourself from unexpected price spikes by enrolling in a price cap program. At IT Landes, if oil prices rise during the contracted period of your fuel oil plan, you will never pay more than the predetermined price cap. And, if prices fall for a sustained period, you pay the lower price. It's a win-win.
Peace of Mind 
After comparing prices and deciding on the payment plan that best fits your budget, the next step is learning about additional services a home fuel oil provider offers. Can your provider inspect, service, repair, or replace your home heating system in the event of an emergency? Partnering with a fuel oil provider that can also service your system will give you additional peace of mind, especially in an emergency.
At IT Landes, our full-service capabilities include delivery, installation, service, and repair to all major brands and types of home heating systems. We also have the ability to roll maintenance plans and oil delivery into one convenient monthly budget payment.
Trust IT Landes to keep your home properly heated during the winter months. Call 215-256-4221 or click here to schedule an appointment.
To learn more, read our Fuel Oil FAQ or download our Fuel Oil 101 Infographic.
Save