Homeowners Add Comfort to Finished Basement with Ductless in Green Lane, PA
Like many homes in Green Lane, PA, this one had a finished basement. But, the homeowners were never quite comfortable down there. They called IT Landes looking for a way to keep it warm in the winter and cool in the summer. After looking through the options, they decided that a Carrier ductless mini-split was the way to go.
In this case study, we'll look at why it's tricky to get the temperature in a finished basement just right all year 'round. Then, we'll see how our homeowner's new system overcomes those challenges.
Problem: The finished basement room always felt a little damp and uncomfortable. The homeowners wanted additional comfort to make this part of the home comfortable year-round.
Solution: A single-zone Carrier Ductless mini-split system provides quiet heating and cooling comfort, making this area of the home a perfect retreat.

Click here to Download Your Carrier Ductless Product Guide
Click here to schedule Your In-Home Consultation
Why Is It Hard to Heat and Cool a Basement?
Basements are hard to heat and cool because their concrete foundations are porous. And, the room is below grade. As a result, basements absorb water from the soil around it. This makes them damp and humid — and hard to regulate when it comes to temperature.
Our Green Lane homeowners noticed how often it felt clammy and damp down there. It's why some of their neighbors used dehumidifiers to prevent mold and mildew.
And, without any heating or cooling reaching the basement, it was never really comfortable.
That's why they're prone to mold and mildew, and why people often have a dehumidifier in the basement to get rid of that damp, clammy feeling.
So, our homeowners were thinking about how to address two challenges: Temperature and humidity. To make the space truly comfortable, they needed a solution that would let them control both.
Carrier Ductless Mini Split in a Green Lane, PA Finished Basement
For this basement, the homeowners chose a single zone Carrier Ductless mini-split system. These highly-efficient systems can create separate zones of heating and cooling wherever you want them, and they do a great job at controlling humidity as well.
The homeowners have state of the art sensors that monitor both the heat and humidity in a room. They make the adjustments necessary to make sure every inch of the space is perfectly comfortable.
The units distribute the heated – or cooled- air evenly throughout the room, preventing those hot and cool spots you'd get with space heaters or window air conditioners.
Click here to Download Your Carrier Ductless Product Guide
Click here to schedule Your In-Home Consultation
How the Ductless Mini Splits Work
Carrier ductless mini-split heating and cooling systems are heat pumps and have two main components.
There's an outdoor condenser unit that helps power the indoor wall-mounted distribution unit. The two separate parts are connected by coolant and electrical lines that we can hide almost anywhere.
This eliminates the need for bulky — and inefficient — ductwork.
That's why they are perfect for spaces like basements, attics, sunrooms, garages, bonus rooms- or even that room in your home that always seems to be too hot or too cold.
The carrier ductless system can create a separate zone of comfort wherever you need it most, and you don't have to worry about installing ductwork anywhere.
Saving Money With Carrier Ductless
Best of all, the Carrier Ductless systems are incredibly efficient. They save homeowners up to 60% on heating bills and 30% on cooling bills compared to window air conditioners.
You can also put them into power-saving mode, or even shut off when not in use. This saves you money by not heating and cooling a space you're not using. That can lead to really big savings on your monthly energy bills!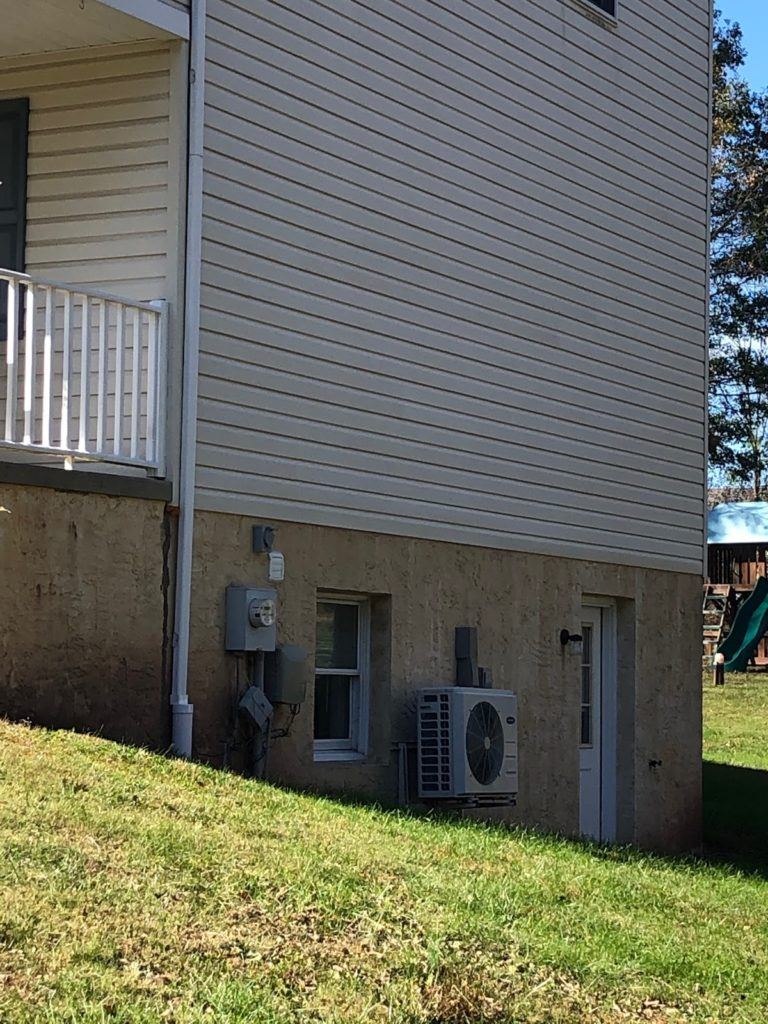 The installation doesn't show any wires or refrigerant lines, and the units are conveniently controlled from a handheld remote. If you like, you can also have a wall-mounted thermostat installed. There are a number of control options available, and the indoor units can fit right into your home and with almost any decor.
The homeowners in this home have been thrilled with the performance of their new system- and they're spending more time than ever relaxing in their new retreat. If you have a room that's hard to make comfortable in your home, whether it's a sunroom, attic, basement or other space, there's a simple and cost-effective way to get the comfort you crave!  Just give us a call here at I.T. Landis, and one of our experts can come out and see if Carrier Ductless could be just the solution you've been looking for.
Click here to Download Your Carrier Ductless Product Guide