Want an efficient way to get hot water instantly without wasting water?
Here are two solutions that can help.
Hot Water Recirculation Pumps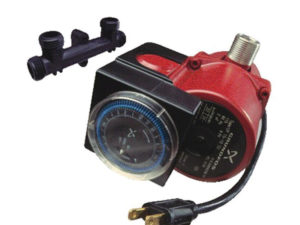 If reducing water usage in your home is important to you, you can eliminate cold water runoff by installing a hot water recirculation system. When hot water is needed, the recirculation pump installed at the fixture empties the cold water from the line and diverts it back into the cold water supply. So, you get the hot water you want, when you want it, and without all the waste.
Mixing Valves
Whenever you turn on the faucet to wash dishes or take a shower, you are mixing hot and cold water.
A mixing valve performs the same function, but it does so at the water heater instead of at the faucet. Because the mixing valve is mounted at the water heater, hot water meets cold water right as it leaves the hot water tank, and less hot water is removed from the tank to achieve a desired temperature.
To learn more about hot water recirculation or our other plumbing services, call us at 215-256-4221 or request an appointment online.
Get Year-Round Piece of Mind
Avoid costly plumbing problems with a Gold Shield Plumbing Inspection Agreement. Get Quality IT Landes Comfort Contract Maintenance for just $125 per year!
Clogged pipes, outdated water heaters, and leaky faucets are more than annoying. They are costly problems that can quickly escalate into expensive repairs and replacements. Stop these plumbing problems before they start with a Gold Shield Plumbing Inspection Agreement from IT Landes for only $125.00 per year. Read more about our Plumbing Inspection Agreement.
Contact IT Landes to request a Residential or Commercial estimate, service, or fuel delivery appointment.