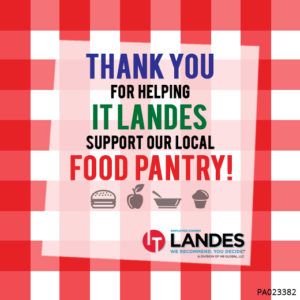 HARLEYSVILLE, PA, (January 11, 2018) – IT Landes Company, a residential and commercial HVAC, plumbing, and fuel oil services provider in Montgomery County, recently donated $356 to the Keystone Opportunity Center's Food Pantry following a successful six-week campaign promoting the non-profit organization via a fuel oil delivery incentive. Located in Souderton, PA, the Keystone Opportunity Center is a community-based organization that provides housing, food, and education to people in need with the goal of helping them attain self-sufficiency. The Center's Food Pantry serves more than 200 families within the Souderton Area School District.
"IT Landes offered to donate $1 to the Food Pantry for every fuel oil delivery from mid-November to the end of December, and our client base was very responsive to the incentive to help out this great cause," said Division President Kerrin Musselman. "We appreciate the communities we serve, and we want to make them thriving places to live and work. This is just one small way we can help make that happen."
Since 1929, IT Landes has provided professional, dependable, and affordable home comfort, fuel oil, and plumbing service and installation for households and businesses in Montgomery, Bucks, and neighboring counties.