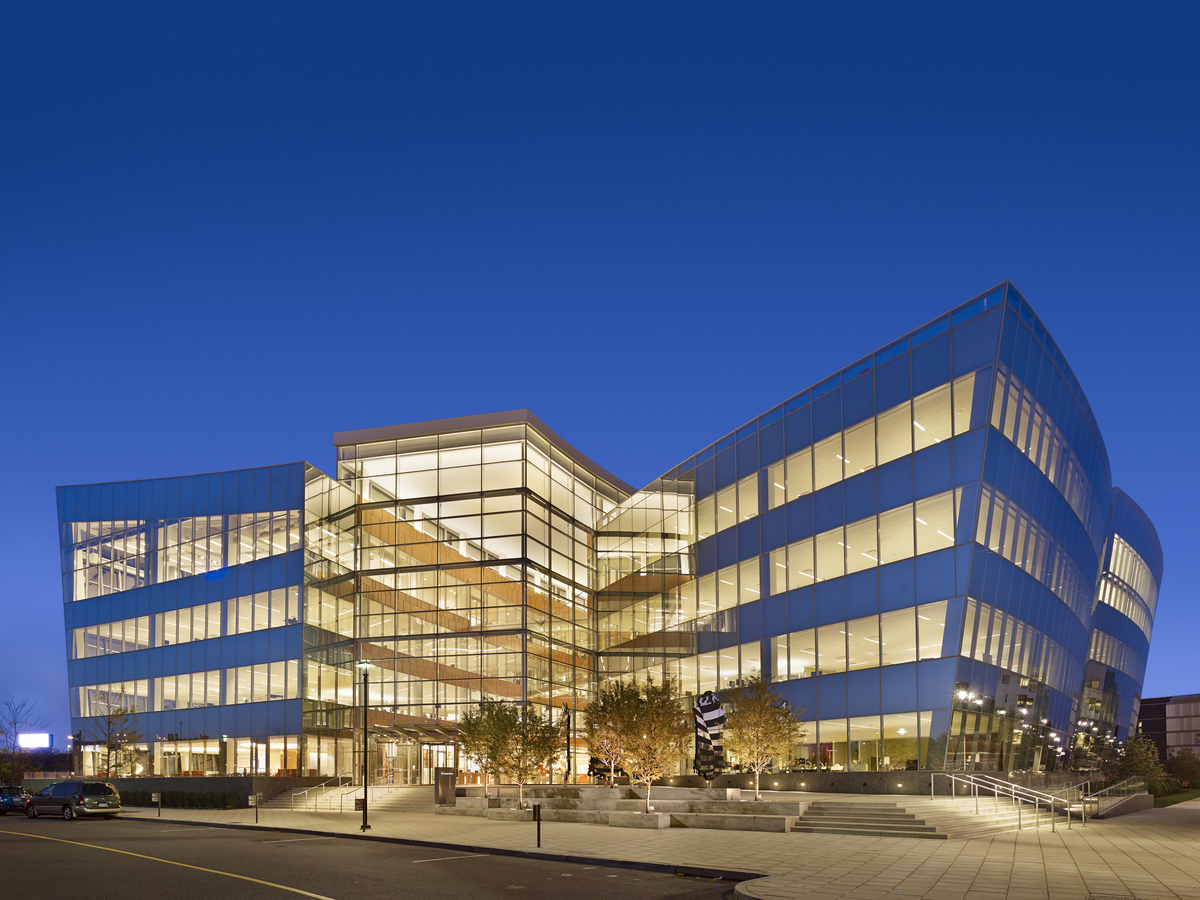 Green architecture to many still conjures hobbit-like earth berms and ugly rooftop solar arrays. But as environmental sustainability moves steadily from a fringe interest to a fundamental ethos, a new generation of buildings is marrying green features with spectacular design.
In fact, the best new green buildings celebrate their sustainability with architectural form that follows environmental function. These buildings are flooded with natural light, incorporate beautiful, natural materials and co-exist with innovative landscaping schemes.
A word needs to be said, too, about the inherent green nature of renovating and reusing existing buildings. In Pennsylvania, with its vast stock of aging industrial structures, downtown commercial buildings and housing, the potential is great.
Here, then, is my personal catalog of the five recent coolest green buildings in the Commonwealth. Four – two office buildings, a private residence and a college athletic facility – are new construction. The fifth is a reuse of an old industrial building. All have received some degree of the coveted LEED certification from the U.S. Green Building Council. And all are models of how architecture can both serve the environment and delight the eye.
Private residence, Lititz
When Jesse Pellman, a partner in the design/build firm Longview Structures in Manheim, was approached to create a custom residence on a scrubby lot in Lititz, his client was firm that the house needed to be both sustainable and livable.
The resulting, 2,800-square-foot house looks like standard Arts and Crafts-y design, but it functions like a high-performance machine with features including photovoltaics, a rainwater harvesting system and hot water circulation.
Pellman carefully calibrated the sun's angles and used window glazing, super insulation and thermal interior walls to minimize seasonal and even daily fluctuations in temperature. In winter, the deep, Arts-and Crafts-inspired roof overhangs allow full sun to enter the house; in summer they provide full shade. Solar panels generate electricity and heat water and an intricate stormwater management system helps protect the watershed.
On the outside, Pellman used stone and stucco; the interior is crafted of non-toxic materials including earth plaster and wood. All are low maintenance, so that just like the house, the owners don't waste any energy.
Gettysburg College Center for Athletics, Recreation and Fitness, Gettysburg
The 85-foot-tall John Jaeger Tower on the Gettysburg College Center for Athletics, Recreation and Fitness is more than a campus landmark, a place for a climbing wall and a dramatic architectural flourish. As Christopher Whitcomb of Cannon Design explains, the tower is built of high-performance glass segments, each rotated 15 degrees from the one below. So the tower acts as a thermal chimney that enhances the buildings' natural ventilation and reduces energy consumption. Convection air is heated by the sun and discharged at the top of the tower through dampers activated by temperature sensors, drawing in cool, fresh air at the bottom.
The 55,000-square-foot gym incorporates other green features, too, to achieve sustainability while best serving the needs of the athletes within. The interior spaces are designed to admit maximum daylight with minimum glare so that, for example, competitive swimmers are not blinded mid-lap. Sensors detect the amount of natural daylight available and supplement only as needed. Large glass areas on the south façade help heat the building in winter; in summer, horizontal sunshades and a gabled roof overhang temper high-angle sunlight.
GlaxoSmithKline, Philadelphia
When GlaxoSmithKline decided to relocate to the Philadelphia Navy Yard, it wanted a green building and an alternative to the cubicles and closed offices it was leaving behind in Center City. The genius of the pharma giant's brand-new building is in the way it uses green architecture to create a state-of-the-art workplace in a dramatic and light-filled setting.
The 208,000-square-foot, four-story building has no private offices. Employees are encouraged to work anywhere – at shared work stations, team tables, meeting and social areas and quiet rooms. "Sustainable strategies such as natural daylight and fresh air quality greatly augment employee productivity and morale," says architect Meghan McDermott of Robert A.M. Stern Architects.
The central atrium and open, loft-like office floors foster communication and collegial interaction, bridges and balconies create a continuous flow of circulation and the gracious, elliptical stairway encourages walking rather than elevator use.
The energy-efficient glass exterior brings the outside in, offering views and abundant natural light to the office floors; 75% of the building receives adequate daylight without need for supplemental light, McDermott says. Fresh air is ample, too, 30% more than required by code. The landscaped roof further cuts energy costs, absorbs stormwater and is a lush gathering spot for up to 500.
Pittsburgh Opera, Pittsburgh
Sometimes enlightened self-interest is green. Consider the Pittsburgh Opera, which in 2008 moved its executive offices and rehearsal spaces to the 1869 George Westinghouse Brake Factory in the city's Strip District, which offered solid brick construction, operable windows and ample light.
Unlike many old industrial buildings, this one had been in recent occupation and was in good condition. "The greenest building is the one you don't build at all. And the very greenest building is one where you get to use 85 to 90% of what's there. That's what the opera was able to do," says architect Joel Bernard of Pittsburgh's IKM. "They weren't doing it to be green. They were doing it to save money."
As new owners, the opera took the further step of engaging another Pittsburgh firm, EvolveEA to help it operate its building using green and cost-effective principles. Using a process known as building commissioning, along with an energy audit, the Opera was able cut operating costs by $18,000 a year, EvolveEA reports.
Among the building's money-saving and green features, according to Pittsburgh's Green Building Alliance, are efficient water fixtures, insulation, occupancy sensors to control lighting and a rigorous recycling program.
Vertical Screen, Warminster
Located at the old Johnsville Naval Air Warfare Center, where Mercury, Gemini and Apollo astronauts once trained, the Vertical Screen headquarters pays homage to the 20th century Space Age while embodying cutting-edge 21st century green technology.
Inspired by the clear-span hangars that once stood at the site, Scott Erdy and David McHenry of Philadelphia's Erdy McHenry Architecture designed an expansive "corporate cathedral" for 300 employees, most of whom spend much of their day on the phone for Vertical Screen, an applicant-screening firm.
The two credit an exceptionally enlightened client, Vertical's CEO Tony D'Orazio, for the building's emphasis on environmental and social responsibility. The 50,000-square-foot building claims the highest LEED Platinum score in the state and the ninth highest in the world.
Building materials, including structural pine, carpeting from old tires, bamboo doors and cabinets, are composed of recyclable or rapidly renewing resources. A geothermal system uses the Earth's mean temperature, drawn from 500-foot-deep wells, to heat and cool the structure. Nine hundred solar panels generate about 20% of the building's energy requirements. Automatic window shades and light-dimming system control a precise balance between daylight and artificial light. Rainwater is collected and reused to flush toilets and irrigate green roofs and interior landscaping that provides oxygen and décor.
Now D'Orazio has retained Erdy McHenry to design a "corporate farm" that will wrap around the building and provide each employee with a garden plot. Says Erdy, "What has been created for the Vertical Screen community will become a benchmark for corporate responsibility and healthy work environments."