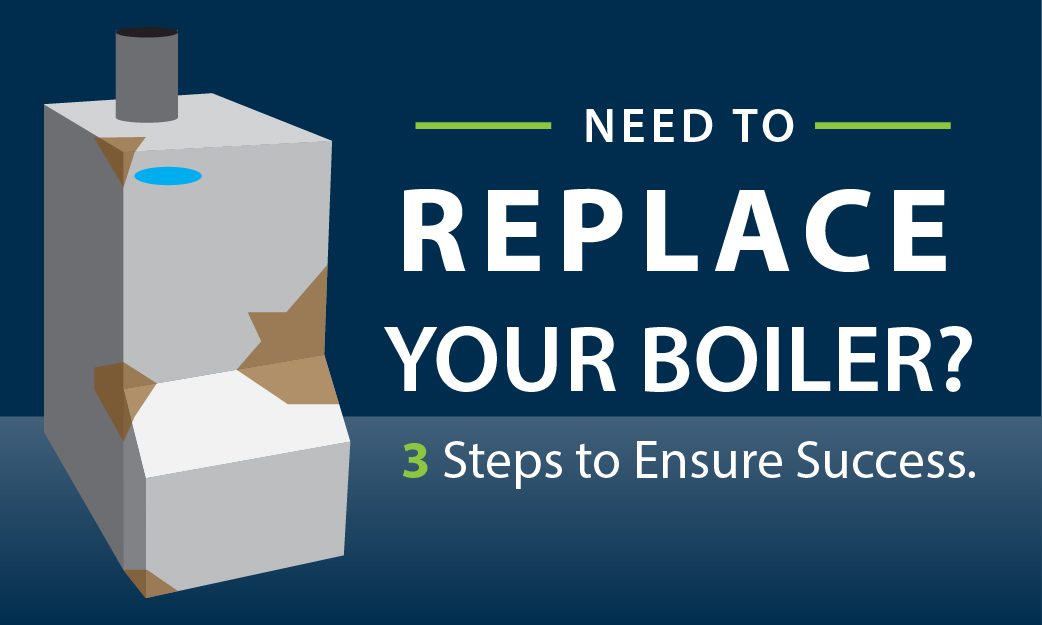 When it comes to boilers, knowing when it's time to replace one can be difficult. Boilers can last for an average of 15 years, but many factors can dictate when a boiler is finally worn out – whether or not the boiler was the appropriate size for the house, the state of the metal inside, the condition of the burner, and more. In order to make the best choice regarding your home's boiler, it's necessary to consult with an HVAC professional who can inspect your current boiler, advise you on whether or not you should replace, and also give his or her opinion on what sort of boiler you should install next.
But just because a professional should make the decision doesn't mean you have no role in the process. There are still things you can do to set yourself up for success when it comes to making the right decision about your boiler.
Choose the right HVAC contractor.
This is one of the most important factors you control as a homeowner, and by taking the time to choose the right HVAC contractor, you can avoid complications down the road. First, make sure the contractor you choose serves a variety of brands. If you do have to replace your boiler, you don't want to be limited in your choice for a replacement; the more brands the contractor provides and services, the better. This information can usually be found on contractors' websites.
Secondly, consider what kind of services this contractor offers. Is this a professional that you can build a relationship with and call if your replacement boiler breaks down? Find out what kind of service packages they offer. Whether you choose a new brand and model or replace your boiler with your current brand and model, an HVAC contractor who can regularly perform inspections and maintenance will be able to extend the life of your boiler. In this case, choosing a local HVAC contractor who can also respond quickly to emergencies would be ideal, as well.
Finally, always consider the contractor's warranty policies. Some contractors might mention 20-year warranty policies, but fail to mention that this warranty only covers parts, not labor. If you need a new boiler, be sure that the contractor offers a labor warranty as well. Otherwise, the parts of your boiler that malfunction might be covered, but the price of having a contractor replace them is not—and you'll end up paying for it.
Do your research.
If think you might have to replace your boiler, you should spend some time researching your options. A good resource to use is furnacecompare.com, which offers reviews organized by brand as well as a boiler brand rating system. By educating yourself on which boilers are the most energy efficient and appropriate for your needs, you'll be ready to make the right choice if you have to replace.
You should also do some research on potential HVAC contractors to help make a decision about who to hire for the job. You can browse contractor reviews based on the type of service you need and your zip code on homeadvisor.com. Another good resource and directory is HVAC Find Local, which offers additional tips for choosing the right HVAC contractor.
Know what your contractor might need to discuss with you.
Having at least a little knowledge about what your contractor might find in your boiler – and how he or she might recommend you move forward – will set you up to have a productive and helpful conversation with your contractor.
In addition to doing some basic research on boilers and their function, you should also know what your contractor is likely to discuss with you after they inspect your equipment. For example, the contractor might inform you that your boiler is functioning well, but because of its size, it needs to be replaced. While this may sound like a waste of money, it's a necessary replacement; your boiler is either too small to adequately heat your water and your home, or it's too large to be efficient. By doing a little preliminary research about common boiler issues, you can be prepared to have an educated, productive conversation with your contractor and come to the right conclusion about how to move forward.
While an HVAC contractor's advice is invaluable when you're considering replacing your current boiler, you should still follow these steps to ensure that you spend your money wisely and benefit your home in the long run.
The residential HVAC professionals at IT Landes can inspect your boiler and give you the best advice about possible replacements. We'll work with you to find a boiler that works with your home and your lifestyle. We service homes and businesses in Harleysville, Lansdale, Skippack, Souderton, Telford, and surrounding Pennsylvania areas. Call us today at 215 – 256 – 4221 or request an appointment online to have your boiler examined by our professionals.