Affordable Furnace Installation in Harleysville
IT Landes has been providing fast, affordable furnace installation and replacement in Harleysville, PA, since 1929. Why are we so trusted? In addition to nearly a century of expertise and top-rated service, we're an employee-owned team that has a reputation for pairing our customers with top-quality heating systems. We emphasize honest advice, expert craftsmanship, and results we are confident you'll be satisfied with for many years to come. If you're in the market for a new furnace or interested in what a furnace replacement would look like for you and your home, count on IT Landes!
Some of the reasons Harleysville counts on us:
Status as a Carrier dealer
Long-time presence in the community
Flexible financing on approved credit
Robust area of service
We'll Carry Out Your Furnace Replacement in Harleysville
Shopping around for a new furnace might feel stressful, but it doesn't have to be! We know that the circumstances around needing a furnace replacement are never ideal, however. Perhaps your Harleysville home just hasn't been warm enough in recent winters. Or maybe your furnace keeps needing a new part. Whatever the reason, you can trust that IT Landes will make your furnace installation a smooth and easy process. We'll answer your all your questions like what size your new heater should be, how much it will cost, and even how much you could save by taking advantage of higher energy efficiency levels and even utility or manufacturer rebates!
We're heating installation experts! In addition to furnaces, we can also install:
Boilers
Furnaces
Heat pumps
Mini-split ductless systems
Heating systems
Our team at IT Landes is prepared to provide you with the highest quality of service available here in Harleysville. We carry a great selection of furnaces, heat pumps, boilers, and even ductless mini-split systems. If it heats your home, we're the team to turn to! From selecting a properly-sized heater for your home to installing everything to perfect factory standards, our installation crew is top-notch. We'll make sure everything is working just the way it should, and answer all of your questions along the way. Plus, we make a dedicated effort to keep your home and property protected, and leave our workspace as clean as we found it.
Providing New Furnaces for Harleysville Residents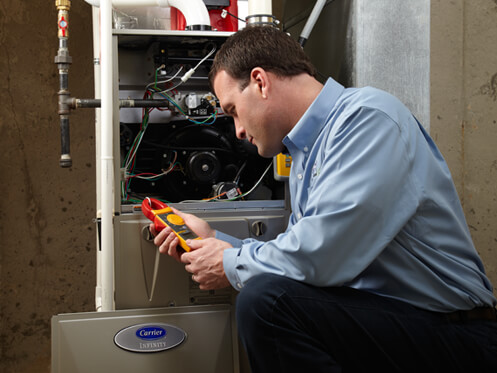 We take pride in our competitive rates and great customer service, and we hope that you'll come to us when you need to have a heating system installed professionally. No installation project is too difficult for us to handle on your behalf. Whether you're just wanting a few questions answered or you're ready to move forward with a furnace installation, we're ready to be of service.
Give us a call at IT Landes today if you're in the market for a new furnace, boiler, or heat pump in the Harleysville area!