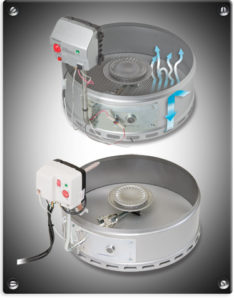 IT Landes services and installs the most technologically advanced brands, which is why we are a proud provider of Bradford White Water Heaters. The Defender Safety System® is one of the many products engineered and manufactured by Bradford White that keeps you protected and comfortable. Made of 304L stainless steel alloys and containing up to eighteen thousand micro dimensioned louvers, the Defender Safety System®:
Resists ignition of flammable vapors that can occur outside the water heater.
Meets stringent ANSI standards for residential gas atmospheric and power-vented water heaters.
Maintains outstanding efficiency and long service life.
Produces very low NOx emissions.
How does the Bradford White Defender Safety System® work?
During operation, air is drawn into the water heater though the jacket opening.
This air travels down, around, and eventually through the combustion chamber.
The air then travels through the geometrically oriented louvers.
When the air reaches these flame arrestor louvers, the air velocity increases and alters the direction of the air.
This causes the air to mix in a proper manner, creating a vector effect, efficiently combusting any flammable vapors inside the chamber.
Watch Bradford White's Defender Safety System Product Video
Additional Features of the Bradford White Defender Safety System® Include:
Advanced ScreenLok® Technology Arrestor Design – Outstands impact, heat, corrosion, cracks, and the harshest conditions.
Resettable Thermal Switch – Prevents burner or pilot operation in case of restricted airflow or ongoing flammable vapor burn inside the combustion chamber.
Flammable Vapor Sensor – Detects flammable vapors and prevents burner operation if detected.
Proven Low NOx Design – Meets regulations of 40ng/J or less.
Pedestal Base – Rugged and durable for easy positioning and transport, resists corrosion with floor contact.
Controlled Combustion System – Lowers noise, adds strength, and assures air is directed through the ScreenLok® flame arrestor.
Maintenance Free – No regular cleanings of flame arrestor or air inlet openings (under normal conditions).
Sight Window – Provides ability to observe pilot and burner operation through view into combustion chamber.
"The Bradford White Defender Safety System® was engineered to be the safest, most reliable flammable vapor resistant system in the industry."
Bradford White is known for their engineering expertise and safe installation track record that is only available through wholesalers to plumbing and water heating professionals – like us.
Interested in learning more? Call our experienced plumbing service technicians at (215) 256-4221 or request a free estimate here.
Save
Save
Save
Save